New Details of Torture of CIA Detainee in Black Site Prisons
[ad_1]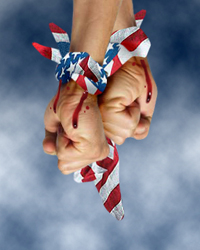 By no means forgive, never overlook. The media barely mentions the U.S. jail at Guantanamo Bay, Cuba or its detainees any more, some of whom have been held for 20 many years with no trial. But the facility continues to be open at an exorbitant price ($13 million for every year for each detainee as of 2019 — 40 detainees remained at that time) and pretrial hearings for several of these remaining detainees are ongoing.
Before this 7 days, Carole Rosenberg of the New York Times, who has focused the past 20 yrs of her career to masking Gitmo, documented on a hearing at Gitmo at which James E. Mitchell, "the psychologist who served build the C.I.A.'s torture plan", testified as to the "accepted and unapproved interrogation strategies (aka torture) he individually participated in and witnessed of Abd al-Rahim al-Nashiri, who will be going through a loss of life penalty trial sometime this century for the 2000 assault on the U.S.S. Cole close to Yemen that killed 17 U.S. sailors.
Perhaps water-boarding is considered way too ho-hum to report on these times, but Dr. Mitchell's testimony concerning forced anal feedings forcing naked detainees into a little crate box (picture below) like a pet dog making use of a rigid bristle brush to scrape the detainees an*s and then put it in his confront and mouth, and other disgusting therapies are not.
We should really all make it a point not to forget the atrocities that have happened in our name at the behest of some of the most heinous politicians in U.S. record. Dick Cheney, are you listening?
[ad_2]

Supply connection