Wings Over Scotland | Less Is More
[ad_1]

It's now almost a year and a month since this website announced its cessation as a continuing endeavour, with the "final decision" clause being invoked four months later.
Since Wings confirmed its formal closure as a blog there have nevertheless been 19 posts in eight-and-a-half months, comprising a mixture of polls (the site's remaining purpose), guest posts, admin, a couple of throwaway joke videos and very occasional one-off, polling-related comment pieces on significant occasions like the SNP marking 15 years in power or Nicola Sturgeon becoming the longest-serving First Minister.
So it's a little bit startling that it's still – and by a considerable distance – the world's most-read Scottish politics site.
(In fact, bigger than the next three put together.)
Admittedly we had something of a flurry of activity in May, with a new Panelbase poll contributing to a whopping total of SIX posts, but SimilarWeb records the past three months of stats so let's add those all together and see if anything changes.
Nope, still Number One by a clear head.
And lastly just for laughs let's count average visits per post.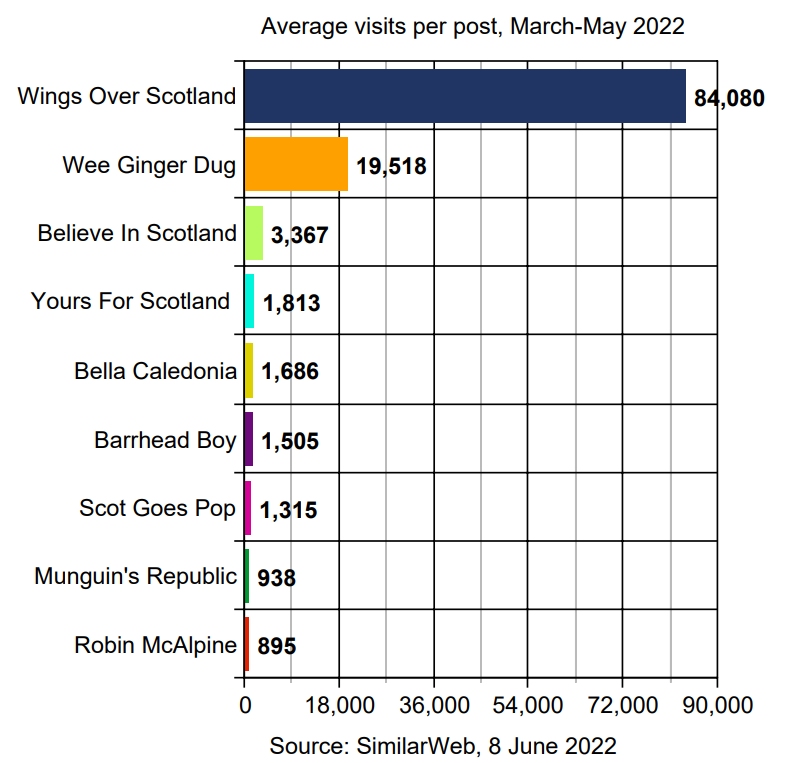 And the combined version:
(No other sites we could think of registered at all on SimilarWeb, which seems to require a minimum of 5000 visits a month, so no Peter A Bell or Talking Up Scotland or Scottish Review. The only Unionist one that met the threshold was ThinkScotland, which would have trailed in in last place slightly below Believe In Scotland.)
So clearly that's both amusing and depressing. In more than a year, nobody has come close to stepping up and filling the hole left by Wings. Nor have any of the sites which used to regularly attack Wings been able to make any headway once freed of our vile and malign chokehold on Scottish political discourse. Indeed, since the last time we analysed the situation nearly two years ago, they've all gone backwards.
And while frankly none of them deserve any better, that's still not healthy for either the once-much-vaunted "new media" or the indy movement. Coupled with dire turnouts at indy marches and events, it seems Nicola Sturgeon's mission to destroy the grassroots that she perceives in her paranoia as competition is almost complete. The campaign for independence is now in all meaningful senses the sole property of the SNP. Our goal of training our own replacements by example has failed.
Wings' webhosting has expired and is due for renewal, but we we're not seeking funds to pay for it – the costs will be met from the remainder of the Wings Fighting Fund. We're aiming to downgrade the hosting to save a significant amount of money, but readers shouldn't notice any difference – despite still being the most popular Scottish politics site, traffic is around 80% lower than it was prior to last May, so like a six-lane motorway at 3am there's plenty wiggle room to close lanes without affecting speed.
(Incidentally, while counting the other sites' posts we were struck by a plainly dishonest claim in Paul Kavanagh's latest appeal for cash on Wee Ginger Dug, in which he said the blog was his "main full time job" while simultaneously asserting that a £5,000 fundraiser from it would provide him with "a sum equivalent to the minimum wage".
But the UK full-time minimum wage is £17,200 a year, which would mean his self-described "main full time job" was providing a mere 29% of his income, with his "part time side gig" for Newsquest Media Group making up the other 71%. We digress.)
As for ourselves, we're a few chapters into writing a Wings memoir, so stay tuned for more on that. Because the prospects of circumstances changing to merit any return to the fray in the foreseeable future seem somewhere between remote and zero.

[ad_2]

Source link