Wings Over Scotland | Progress update
[ad_1]

In slightly over a month from now, Nicola Sturgeon will overtake Alex Salmond as the longest-serving First Minister of Scotland. It seemed a reasonable time to take stock.
It's very nearly six years since the Sunday Herald headline above from 1 May 2016. (Remember the Sunday Herald, readers? It feels like another lifetime, doesn't it?)
April/early May is very often the period leading up to an election, which is when the SNP traditionally ramp up the carrot-dangling about independence to secure the votes of the faithful for yet another "cast-iron mandate", so it's not a bad barometer. Let's see how far we've come.
The last poll before 1 May 2016 was just a few days earlier – a Panelbase one for the Sunday Times with the fieldwork from 23-28 April. It found support, with Don't Knows excluded, at Yes 47% No 53%.
The most recent poll is one conducted by BMG for the Herald, reported four days ago. It found support, with Don't Knows excluded, at Yes 47% No 53%.

Just for fun, let's also see where we were at the halfway point. Panelbase also did a poll from 24-26 April 2019, right in the middle of the other two. It found support, with Don't Knows excluded, at Yes 47% No 53%.
What about the intervening years? There were no April polls in either 2018 or 2020, but Survation did do April ones in 2017 and 2021 so let's add those too to get another polling company into the mix.
In April 2017 Survation found support at Yes 47% No 53%, whereas in April 2021, in the middle of COVID, they recorded it at Yes 47% No 53%.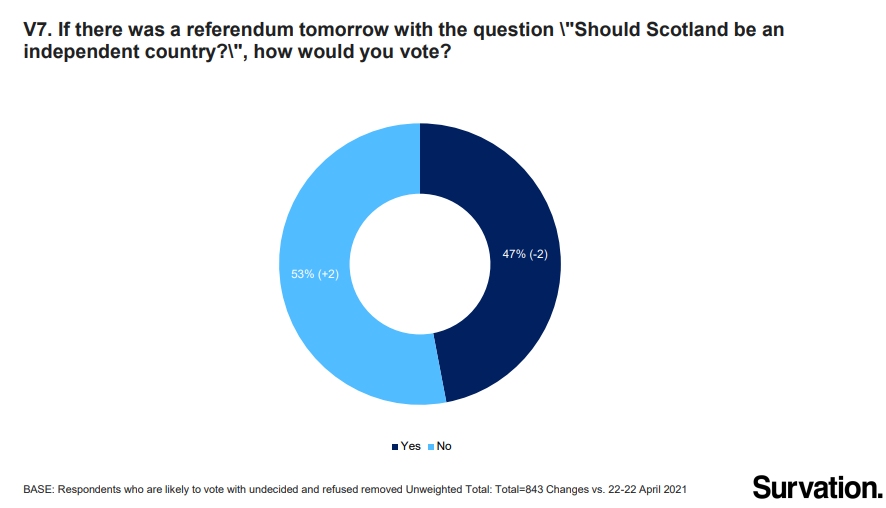 And what the heck, we may as well be completist and include Sturgeon's first ever April as SNP leader/FM, that of 2015, as well. A YouGov poll for the Sunday Times that month broadens our sample with another different polling company, and found figures of Yes 47% No 53%.
So let's put those into a graph and see how we've been doing under Nicola Sturgeon's leadership, through perhaps the worst, most chaotic, shambolic and disastrous peacetime years in the history of the UK – Brexit, knocking on for 200,000 deaths from a virus pandemic, runaway inflation, empty shop shelves and all the rest of it.
Thank goodness for that calm, steady leadership winning over all those soft No voters and building support to the point where it'll be irresistible, eh folks? Just another infinity years to wait and we'll be right there.
We don't know about you, but we're counting down the days.
 .
APPENDIX
An interesting facet of today's poll is that the SNP habitually claim massive youth support for indy, but in fact the 16-24s the party obsessively pursues are only very narrowly in favour, and less so than the sneered-at "boomers" of 45-54. It's specifically the 25-34 bracket that's the outlier (along with over-65s at the other end).
Also striking, for those of us who remember the SNP's supposed "woman problem" under Alex Salmond, is the fact that after seven years of Sturgeon's leadership there's now a sizeable gulf in support between men and women, with men very narrowly pro-indy and women against by a hefty 14 points.
That's a spectacular drop since Sturgeon initiated plans for "gender reform" last year, just days after a poll in which 60% of women backed independence.
And it's very female-specific. The drop in support among men since the poll cited by Carslaw is just three points, compared to the 17-point fall among women in the same period, and has turned a 14-point Yes lead into a 6-point No lead.
Who'd have guessed that destroying women's rights would be unpopular with women?



[ad_2]

Source link